Meet Dr Kassabian
about Carolyn M. Kassabian, M.D.
Dermatologist West Los Angeles | Studio City | San Fernando Valley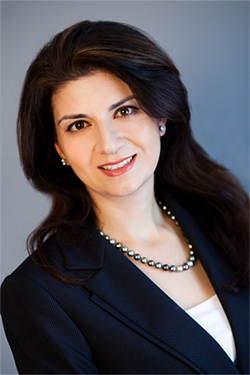 Dr. Kassabian received her Bachelors of Science in Biology and graduated Summa Cum Laude from the University of California, Los Angeles.  She subsequently attended the University of Southern California, Keck School of Medicine and knew that dermatology was her calling after rotating in the dermatology clinics.  She became a member of the Alpha Omega Alpha National Honor Society as a junior, a mark of distinction given to the top 6 students in the class. In her last year of medical school, she served as president of the Alpha Omega Alpha gamma Chapter.  As a fourth year student, she wrote an article on Wells' syndrome, which was accepted for publication in Cutis journal Spetember of 2003.
At graduation, Dr. Kassabian received the Merck Manual Award, presented to the top four graduating seniors.  She also received the Lange Medical Publications Award presented to the one student recognizing top performance during the first two years of medical school.  Her other awards include American Medical Women's Association Achievement Citation, Dean's Scholar, and graduate with Highest Distinction.
After a one year internship in internal medicine at White Memorial Medical Center, Los Angeles, Dr. Kassabian began residency in dermatology at the University of Southern California.  During her last year at USC, she served as co-chief resident of the program. As the current Clinical Associate Professor of Dermatology at USC, Dr. Kassabian volunteers to teach the residents in the medical clinics.
Dr. Kassabian is board certified in dermatology, and is a fellow of the American Academy of Dermatology. Her interests in dermatology include diagnosing and treating conditions such as acne, eczema, skin cancer as well as skin rejuvenation and anti-aging treatments for the skin using chemical peels, injectables, laser, and her skin care line of products.
Dr. Kassabian is fluent in Armenian and proficient in Spanish.  She currently is in private practice with her husband in Los Angeles, California.  She devotes her practice to delivering personalized state-of-the-art skincare to meet your individual needs.